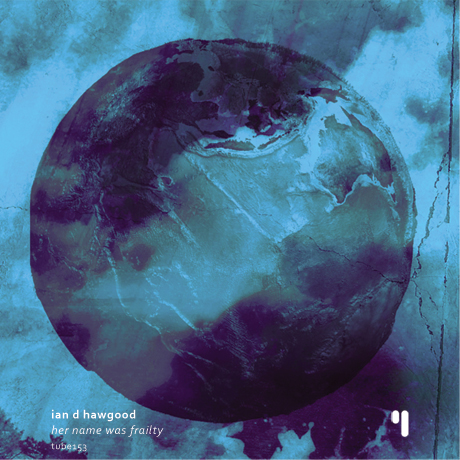 Words from Sebastian Alvarez on www.monocromatica.com: «This is one of those releases that floods me with metaphorical insights.
In the beauty of breakage we find some of the answers for our deepest questions.
When something breaks, we are able to perceive it as what truly is, a collection of pieces of different shapes and sizes. Ian D Hawgood gives us four pieces of these ruined goods. Beginning with incessant timing of a vertical sound along a sea of soothing horizontality.
If frailty is the source of all things, then we ought to go back to it. All the abundant arrogance and destructive strength present in human beings has brought us to irreversible situation, into a mood that swings like the weather, each time faster and more bipolar. I believe "Her name was frailty" implies The Earth. Whenever we observe The Earth from a distance, in this case from an astronaut's point of view, we can understand how far from reality we have strayed. The construction and sounds of this album allows me to, not only returning to a point of frailness, but also to activate a particular type of mental stimulation that empowers my psyche conceding me thoughts about restoration. Now, restoration implies an active participation in bringing the past back to life, in this case from broken to whole. This release definitely modifies my tiny rat heart.
Thanks Ian… or should I say 'Ion', an atom that has acquired a net electric charge by gaining or losing one or more electrons.»
Track list:
01 • Beauty In The Breakage [12'18" • 28,4Mb • 320Kbps]
音频片段:需要 Adobe Flash Player(9 或以上版本)播放音频片段。 点击这里下载最新版本。您需要开启浏览器的 JavaScript 支持。
02 • Frailty As The Source Of All Things [6'22" • 14,9Mb • 320Kbps]
音频片段:需要 Adobe Flash Player(9 或以上版本)播放音频片段。 点击这里下载最新版本。您需要开启浏览器的 JavaScript 支持。
03 • Your Swing Is The Weather [11'24" • 26,4Mb • 320Kbps]
音频片段:需要 Adobe Flash Player(9 或以上版本)播放音频片段。 点击这里下载最新版本。您需要开启浏览器的 JavaScript 支持。
04 • Rat Heart Modifications [13'36" • 31,4Mb • 320Kbps]
音频片段:需要 Adobe Flash Player(9 或以上版本)播放音频片段。 点击这里下载最新版本。您需要开启浏览器的 JavaScript 支持。