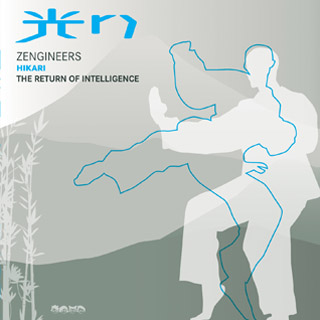 netlabel – id.eology
genre – drum'n'bass
release date – 2008
If you have a mission to fulfill, you might be well-advised to activate a network of supporters. In the case of Zengineers the mission is to revive a musical language written off by many with some new content.
A network, consisting of the netlabels iD.EOLOGY and musicartistry, is already there to back them up. And so their dichotomic approach to the question whether these days there still is anything left to say on the topic of drum'n'bass bestows upon us a netaudio-premiere in the shape of a double-album release divided upon two netlabels. "Hikari" and "Yamiyo" act complementary to one another in style and content and yet the two halves unite 24 tracks, on which Zengineers easily recombine genre characteristics of past and present days with stylistic tidbits from synthpop-vocals to world-music-vibes and jazz-elements.
"Hikari", published on iD.EOLOGY, casts one look forward and two looks back. Warm pads meet rattling swishbeats, the earthy sound of wood contrasts the crisp tone of metal, while LTJ Bukem and Roni Size shake hands in front our inner ear. Indications of far-eastern harmonies touch the tracks as lightly as a soft breeze and carry our thoughts off to mysterious places full of exotic beauty, just to transport them back to western culture with elegic pop-vocals the very next moment.
When this trip is about to end you notice how much inspiration for the inner cinema there still is to be found in drum'n'bass these days, while at the same time you wonder whether there might also be some new sides to the more physical qualities of the genre to discover. More on that on "Yamiyo".
音频片段:需要 Adobe Flash Player(9 或以上版本)播放音频片段。 点击这里下载最新版本。您需要开启浏览器的 JavaScript 支持。
tracklist
01 The Future (Intro)
02 The Fusion
03 Heliopolis
04 Don´t blink
05 My Way to you
06 State of Intending
07 Tea on the Terrace
08 Ishin
09 La Jetee
10 TV on mute
11 Through the Lens
12 Stop each other
13 Lost in plain Sight
14 Passage to India
Duration – 69:33 min.
All tracks composed by Zengineers.
Artwork by Resi.
Download -> Click to visit the Web page